In celebration of the brand new season of Once Upon A Time starting this coming week I thought I would combine my love of nails to bring you Once Upon A Time inspired/themed nail art. I binge watched all previous seasons of OUAT so this is the first time I'll be watching it live and I'm about as excited as a depressed person
who looks like the joker when they smile
gets.
For those of you who don't watch OUAT its basically a twisty, dark, magical, comedic show based around the premise of all the characters you know and love/loathe from your childhood being cursed into a quaint little town in Maine with no memory of their fairytale selves... Well, that's how it starts. How each character and story is developed and intertwines with each other is so beyond clever that it makes you go back and question everything you were every told about your childhood. It's beautifully written and is so easy and enjoyable to watch, if you don't watch it already then please give it a go!
Season 4 recap
Season 4a consisted of the Frozen/Snow queen story, culminating in the shattered sight curse, one in which I can relate. Season 4b was all about the search for the author and happy ending for villains and I'm not going to give anything away for anyone who has never watched it who may want to start watching it but here's my interpretation of season 4 with a frosted glittery white, and you can't quite make it out from the picture, but there's a shattered mirror over the image of the eye, then some swirly, scriptive, illegible writing to represent the search for the author and finally a lock and key which again was hard to picture as I have stupidly long fingers so to get all my nails in the shot I have to practically dislocate my fingers.
Mr Gold/Rumpelstiltskin
"All magic comes with a price" well whatever the price is Robert Carlyles performance as the Evil wizard/beast/Pawn shop owner should have you hating him but has you kind of falling in love with him, don't know if that says something about his skills as an actor or about my taste in men..... Definitely my favourite character and such a joy to watch on screen whether he's being evil,(rare he is/was the dark one after all) good, if he's Rumple, Mr Gold or the 'Beast' he just nails it everytime.
The Evil queen/Regina
She's evil, it's in the name, should be simple. BUT it's not. This is where OUAT is genius and one of the great examples in everything you think you know about Disney or fairytales, or your childhood is wrong!
Well I think operation yewtree told us that.
But life is not as black and white as good or evil just as there is no mental or sane there is a vast spectrum of colour. Such as the red that Regina is synonymous with, both in her poisonous apples and her kick-ass red lipstick. I decided to accent it with Reginas black heart and ever present faithful mirror.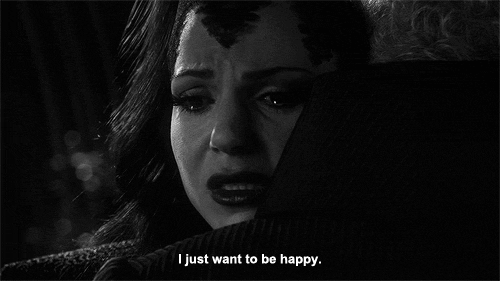 Me too Regina, me too...
This season is all about the dark swan. Although someone really should give her a heads up about the bleached eyebrows, I can tell her from experience, A they're not a good look and B regrowth makes you look like you've got lice. I kept it simple with a matte black and to represent her new role as the dark one I painted
I'm a shit artist who fails at colouring books so don't laugh
a dagger then filled it in with gold and silver glitter.
Trueloves kiss can break any curse. So in love, both on screen and off. ergh so happy doesn't it make you want to vomit butterflies and fairy dust. I have to admit I'm more of a fan of them in the enchanted forest than Mary Margaret and David in Storybrooke. I like them kicking arse and being less simpering and ok, I admit it, when one or the other is in peril and having to be rescued. It's not sadistic it's just what I like to watch I swear....
An evil villain with a perfectly valid reason for vengeance (damn those charmings). I don't know why but I just found it really funny that we first saw Maleficent as a washed up former dragon who was abusing sleeping potions like benzos. This season the hunt is on for Maleficents baby daddy, because Dragon Mal was a bit of a slut apparently. For this I (attempted) a purple ombre and then used my moyou stamp to print a dragon which looks slightly loch ness monsteresque....



Belle
Ahhhhh Rumples beloved. Now the things that are synonymous with Disneys Belle only make brief appearances in OUAT (blue and white pinafore, Gold dress) But the one thing she does share with her cartoon counterpart is beautiful chocolate auburn hair. Jealous much. I bet she didn't have to go through a green phase to get it that colour. So I tried to incorporate her chocolate locks (scented FYI) with a gold accent nail to represent her wedding dance dress and then painted a rose which apparently makes its presence known this season #spoiler. Oh and also I HAD to sneak in her animated doppelganger because hey, it's belle.
And finally another example of where the character you've always associated with being the villain can find a form of redemption. Yes, he's still a pirate and has done bad things but.... who am I kidding guyliner's hot he could blow up Storybrooke I'd find excuses for him. Peter Pan on the other hand, don't get me started on that little shitbag. For this, I used a black leather effect nail polish then used a nail sticker and painted to create a necklace effect similar to the one Hook is known for.
I'd like to end this post with a moments silence to commemorate all that was lost in this post. Mainly my nails after the several hours a day for several days on end of painting and removing repeat times seven. rip nails you will be missed. also lost was 2 whole bottles of nails varnish remover three packs of cotton wool pads and my favourite quick dry top coat, last seen between the third failed attempt at the season 4 recap nailart and belle, probably sucked into a black hole somewhere aka under my bed. you all served me well and will be missed.
Do any of YOU watch OUAT? What are you most looking forward to in the coming season? Who's you're favourite character?
Thank you for reading and don't forget to subscribe and get the latest posts by email if you want to keep updated